Features
Here Are the 5 Priority Projects for Improving Ingleside Transportation
An estimated $48.3 million of street and transit projects are being pushed forward.

Five transportation projects have been put forward for prioritization along Ingleside's stretch of the busy Ocean Avenue commercial corridor, including transit, pedestrian and bike safety improvements.
The San Francisco County Transportation Authority board — made up of all 11 city supervisors — approved the Ocean Avenue Mobility Action Plan last month. The plan recommends three small projects and two large projects that focus on the surrounding area of Ocean Avenue between Junipero Serra Boulevard and San Jose Avenue. The purpose of the action plan is to take ideas from the 27 studies and plans of the area that have been done over the past 15 years to make them happen.
District 7 Supervisor Myrna Melgar, who is the transportation authority's vice chair, called for the formation of the task force to create the plan.
With $300,000 in funding, transportation authority staff and a contracted facilitator got to work in October 2021 leading a 14-member task force that included residents, schools and community organizations districts 7 and 11, met five times to narrow down projects to advance with help from the transportation authority staff.
The final report adopted by the board includes cost estimates (may change during detailed design process), potential fundings sources and the lead agencies who will advance the projects.
Of the $48.3 million needed for the five projects, $32.6 million has already been secured for the K Ingleside light rail improvement project, leaving $1.4 million needed for that project.
RELATED: Frida Kahlo Way Traffic Safety Upgrade Planning Underway
The county transportation authority identified numerous potential funding sources for the other four projects.
Here's a breakdown of the projects.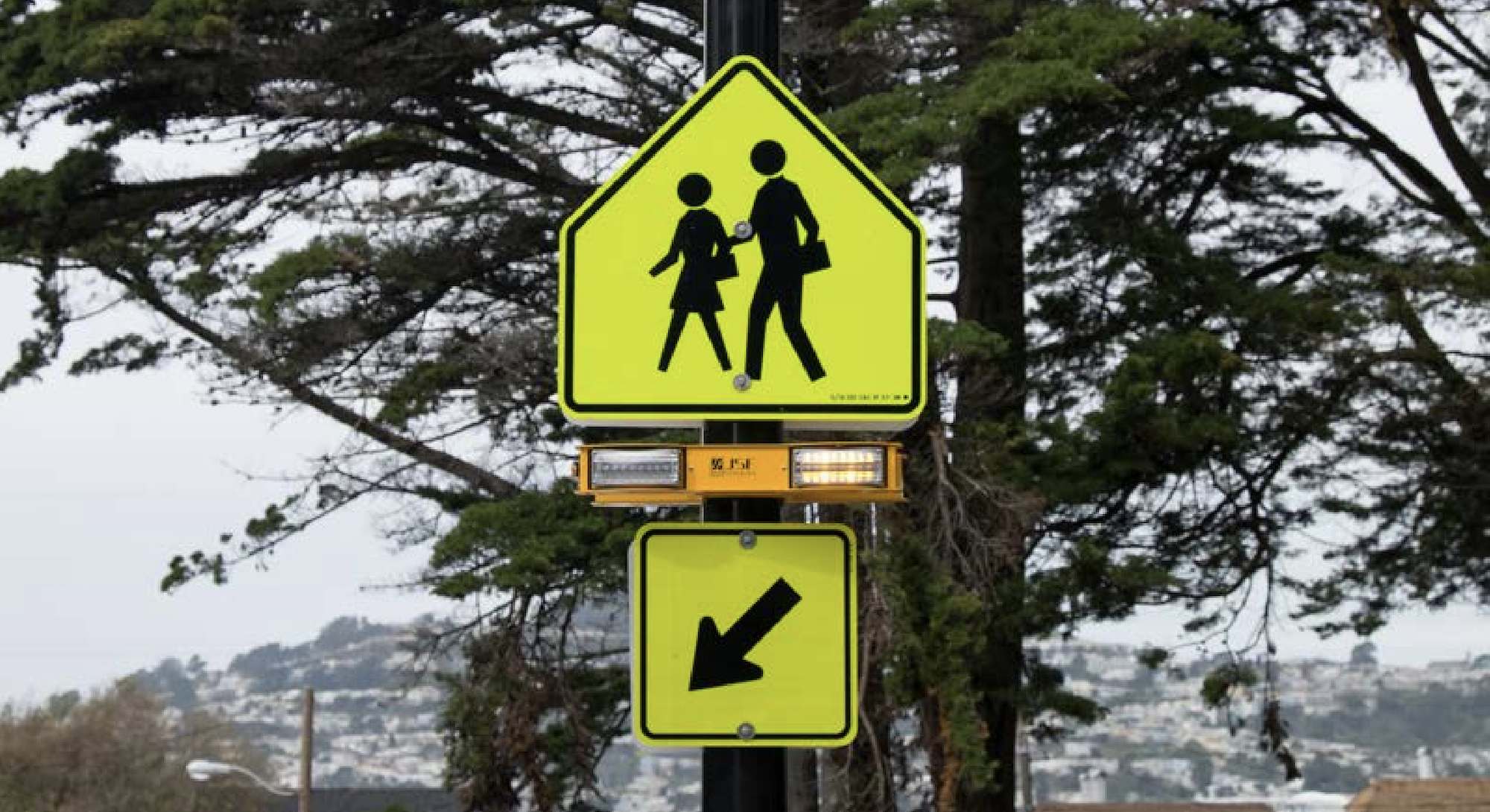 Ocean Avenue Pedestrian Safety
Lead Agency: SFMTA
Estimated Cost: $2,548,500
Potential Funding Sources: Proposition L, Safe Streets and Roads for All, Proposition AA
Project Description: The report recommended several concepts to improve street safety for pedestrians and bicyclists: crosswalk warning signs at the intersections of Paloma Avenue and San Benito Way, daylighting intersections to improve the visibility of pedestrians crossing the street for motorists and new ADA curb ramps, bulb outs and left-turn restrictions.
Ocean Avenue Speed Management
Lead Agency: SFMTA
Estimated Cost: $2,925,000
Potential Funding Sources: Prop. L, Safe Streets and Roads for All
Project Description: The project aims to reduce the speed of vehicles on Ocean Avenue. The recommendations for the project include making traffic signal upgrades — larger signal heads, backplate reflective tape — to make signals more visible at intersections and installing traffic signal head visors to limit the visibility of signals down Ocean Avenue.
Other recommendations included hardened center lines to prevent U-turns and wide left turns as well as speed feedback signs.
Bike Connectivity Via Holloway Avenue
Lead Agency: SFMTA
Estimated Cost: $342,000
Potential Funding Sources: Prop. L, TNC Tax, Safe Routes to BART
Project Description: The project creates an alternative east-west bike connection on Holloway Avenue between Balboa Park BART station and Junipero Serra Boulevard. The report divided the alternative bike connection into four different segments and provided guidance in how to design each unique segment.
Between Junipero Serra Boulevard and Ashton Avenue, pedestrian safety zones are recommended along with green bike lanes in both directions and traffic circles to slow speeds.
From Ashton and Lee avenues, traffic circles and traffic diverters are recommended.
The third segment includes the one block of Lee Avenue connecting to Ocean Avenue. Lee Avenue will eventually connect with the Balboa Reservoir bike network north of Ocean Avenue. Proposed treatments on this segment could include reconfiguring the parking spaces from 60-degree to 30-degree — at a cost of 4 to 5 spaces — to extend the bike lane to begin at Ocean Avenue. Speed humps, a green bike box at Ocean Avenue for left turning bicyclists and a green northbound bike lane on the east side of Lee Avenue from Holloway and Ocean avenues at a cost of 10 parking spaces.
In the last segment from Ocean Avenue to Balboa Park BART station, the report recommends striping to indicate a travel path for a bike connection, a two stage left turn or box for bikes to connect to westbound Ocean Avenue and painting green bike lane markings on westbound Ocean Avenue, across from the Interstate 280 overpass. Green-backed sharrow markings are also a potential treatment on eastbound Ocean Avenue.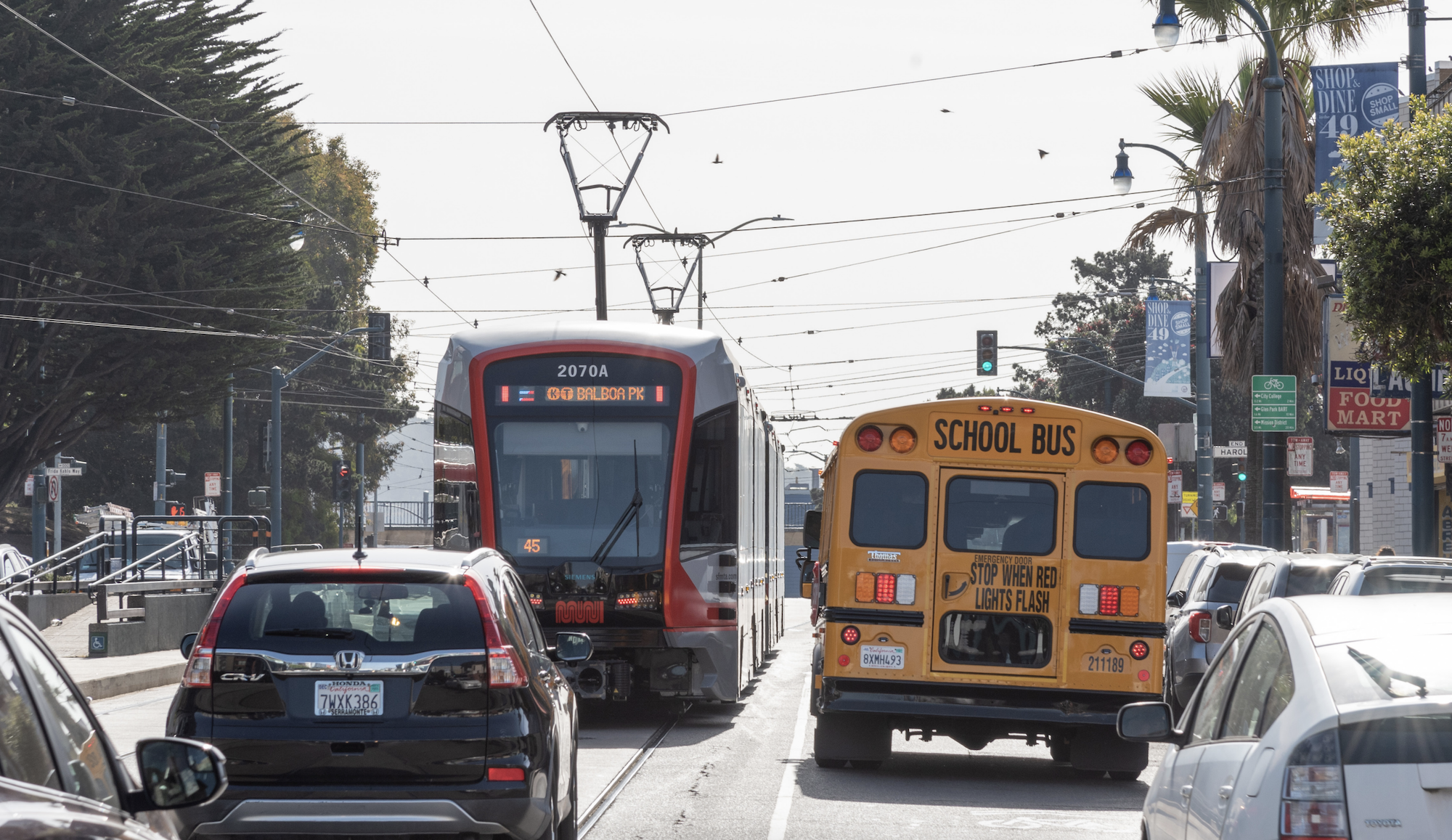 K Ingleside Rapid Project
Lead Agency: SFMTA
Estimated Cost: $34,070,000 ($32,683,177 already secured through Proposition B, Proposition K and from the state. The project still needs $1,386,823)
Potential Funding Sources: Prop. L, Prop. AA, other regional or state funding may be available
Project Description: The K Ingleside currently runs as a two-car train, but the second-car train goes unused as street boarding islands are not long enough to accommodate two-car trains. The project would extend boarding islands on Ocean Avenue at four stops — San Leandro, Aptos, Victoria/Fairfield and Miramar — and would require the removal of parking spaces at those locations.
Other possible improvements in the report include removing the Cerritos and Westgate stops to reduce travel time and install transit signal priority.
Installing transit lanes and restricting left turns may also be considered.
The transportation agency is conducting surveys to collect rider feedback to inform the plans.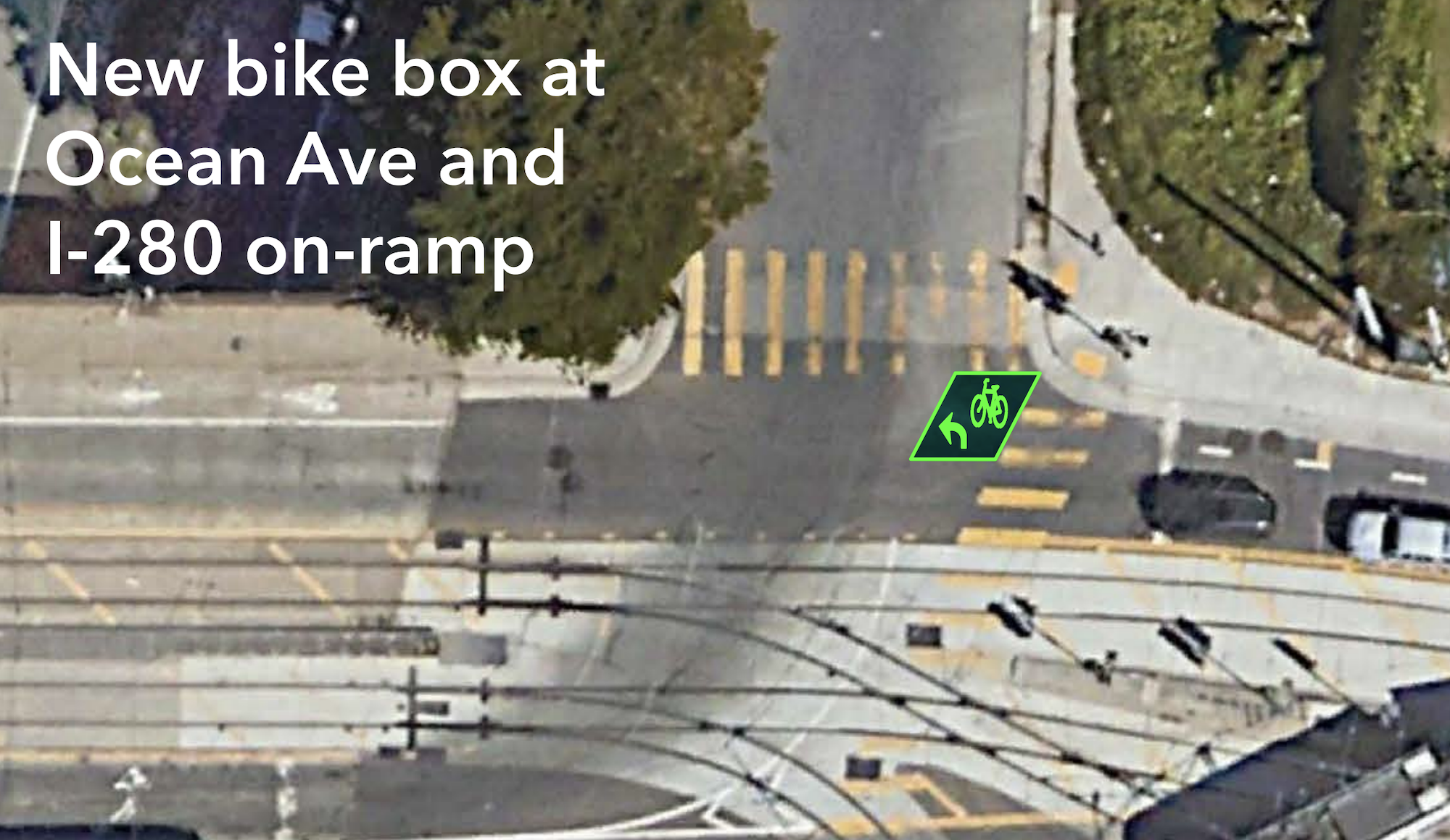 Shared Pedestrian and Bike Path Improvements
Lead Agency: TBD
Estimated Cost: $8,400,000
Potential Funding Sources: Caltrans Sustainable Transportation Grant Program and Prop. L to fund conceptual planning. One Bay Area Grant, RAISE Grant, state and Prop. L to fund implementation.
Project Description: The project would remove the pedestrian bridge that connects to City College of San Francisco and move the retaining wall that fronts City College in order to create a shared pedestrian and bike path on the westbound side of Ocean Avenue.