The boutique moved into a bigger storefront next to its original space and now offers more plants and products.
The Ingleside Light is an independent news outlet. Sign up to receive our latest stories as soon as they're published.
The Plant Lady SF is growing into a larger location.
Started as an at-home business during the pandemic that quickly grew into a brick and mortar location last year. One year later, the small business relocated into the former Ocean Paws location and officially opened their new doors on Nov. 25 of this year.
"Our old place was lovely and I think everyone thought that it was cozy," owner Jeannie Psomas said. "I certainly did as well. We did well with the confines of what we had. This [space] just has so much more freedom. There's so much that we're going to do with it. I'm super excited about that."
A few things to come in their new space are items for house decor and more handmade pots and products from local creators. The shop currently offers accessories such as plant-inspired ornaments, candles, stickers, cards, jewelry and more from artists across the Bay Area.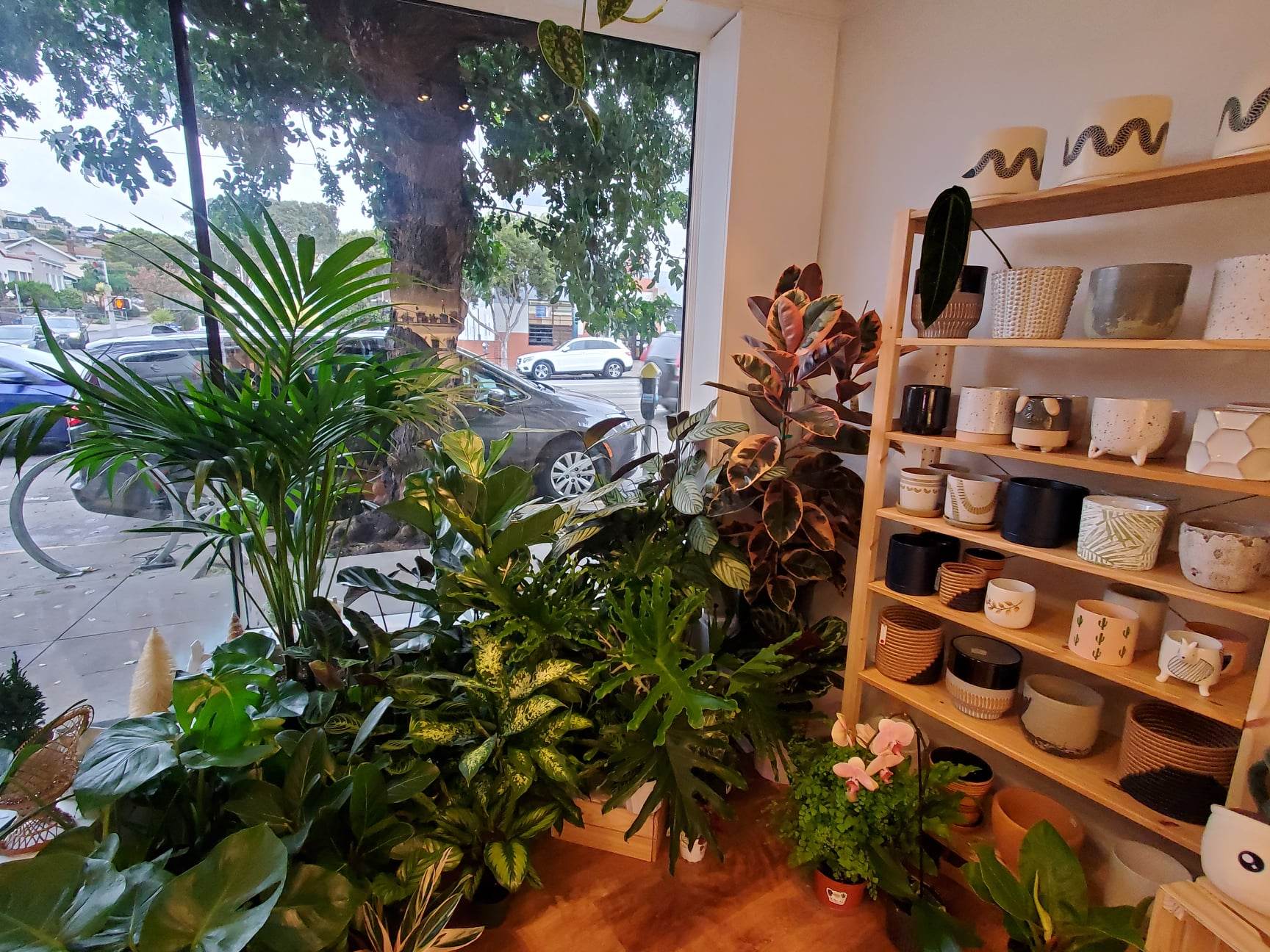 "I want to have a big section, basically just for locally made locally sourced Bay Area plant-entrepreneurs, of which there are many, and their products are like world class," Psomas said. "In the same way that the Bay Area basically invented the internet and all that stuff, the plant people in the Bay Area are like little geniuses. They are always inventing these amazing things for plants and they're going all over the country with them. It all starts here. It's really, really cool."
The shop carries plant care accessories, from watering cans, Plant Lady-brand Mite-y spray, moss poles and more. Psomas said  the plant selection will soon include more air, carnivorous and orchid plants.
"Our selection is going to be even more fun and crazy," store manager Cooper Michael said. "It's so nice to have a space where people can shop comfortably and we don't have to feel like we're breathing down their necks all the time. People can even dance on the floor if they want to, we have that much room now."
For long-time customer Matt Chacon, purchasing items at The Plant Lady has always been a positive experience.
"I think it's a great use of space and I love plants and I think it's awesome," Chacon said.
Though they are still putting the final touches into their new space like figuring out where to put a section for soil or books on plant care, The Plant Lady SF is excited to continue providing customers with the tools and items they need to succeed.
"Don't be afraid of plants," Psomas said. "If you've never had one before, we'll walk you through it. If you've had a million and you're tired of them, come to the store and just get inspired again because there's something here that will spark joy."
The Plant Lady
📍 1637 Ocean Ave.
🕒 Hours: Wednesday to Sunday, 11 a.m. to 5 p.m.
🌐 Visit Website
Support Independent News
This story you've just finished was funded by our readers. We want it to inspire you to either sign up to become a member or make a gift to The Ingleside Light so that we can continue publishing stories like this one that matter to our community and city.
The Ingleside Light is a reader-funded news publication that produces independent journalism to benefit the community. We were founded in 2008 to fill a void in San Francisco's press: An outlet dedicated to the people of the greater Ingleside neighborhood. More than a decade later, The Ingleside Light is still here doing the work because it is critical to democracy and our civic life.
Your contribution today will help ensure that our critical work continues. From development to small business, to parks and transportation and much more, we are busier than ever covering stories you won't see anywhere else. Make your gift of any amount today and join the hundreds of readers just like you standing up for the power of independent news. Thank you.
JOIN NOW