Health
New Walking Tour Highlights the Street Trees of Westwood Park
A local author created a self-guided walking tour of Westwood Park's landmark street trees perfect for physical distancing.

On a bright, crisp day in early November, a group of tree experts organized a physically distanced, self-guided walking tour of the trees of a premier Ingleside residence park.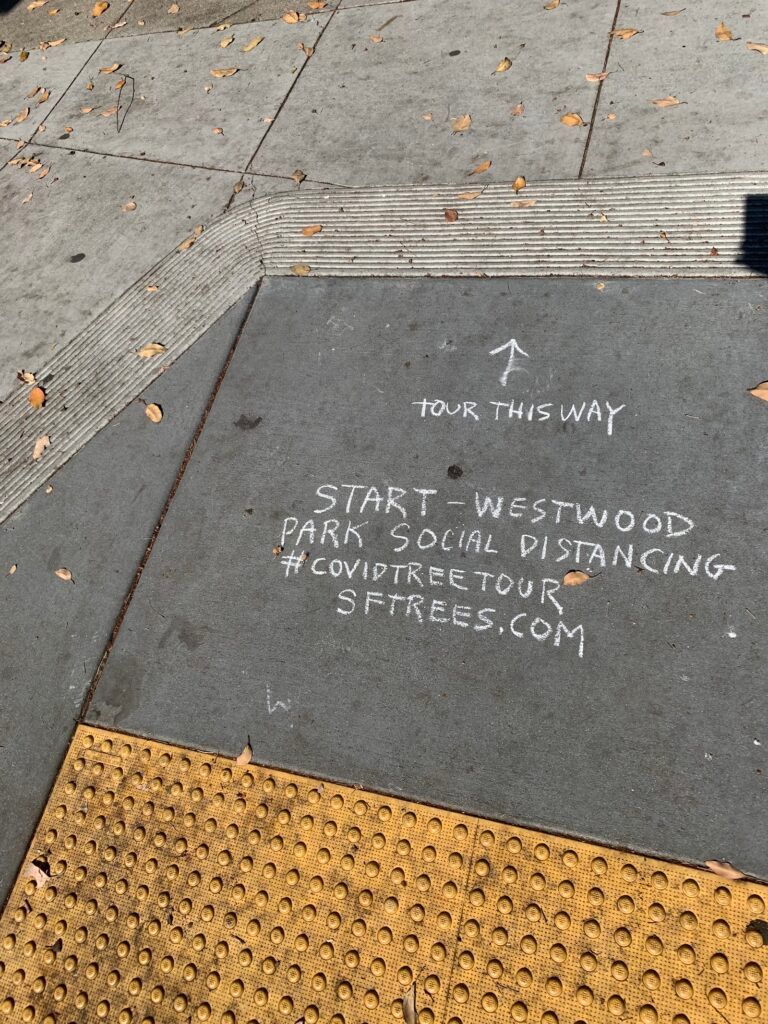 The walking tour took participants through the curvilinear streets and Craftsman bungalow houses of Westwood Park for two miles, following chalk explanatory text written on the sidewalk.
The tour began on Ocean Avenue near the Pinus Pinea or Italian stone pine tree, located in the median strip on Miramar Avenue at Ocean Avenue. Italian stone pines are  the source of pine nuts ("pignoli" in Italian) which are used in Mediterranean cooking.
The tour continued up to Monterey Boulevard, and featured trees including the Norfolk Island Pine, which hails from Norfolk Island in Australia.
The tour was organized by SF Trees, a project of venture capital lawyer and author of The Trees of San Francisco. Joining Sullivan in leading the tour were Jason Dewees, horticulturist at Flora Grubb Gardens and author of Designing with Palms; and Richard Turner, retired editor of Pacific Horticulture magazine.
The outing was designed for people to do on their own, either individually or in small groups, without giving the organizers an idea of how many people to expect, but Sullivan, who manages the SF Trees website, said that website traffic tripled after the Westwood Park tour page went up.
"Each neighborhood has a distinctive collection of trees," Sullivan said. "I think Westwood Park is distinctive for the Italian stone pines that go up the Median of Miramar, and we also noticed a lot of unusual and attractive palm trees in the neighborhood.  San Francisco in general has a grouping of trees that have overtime been selected for our unusual conditions — sandy soil, bracing winds, no rain for most of the year, etc."
"I think if you learn a bit about the trees of the city, it makes walk around your own neighborhood more interesting," Sullivan said.
Dan Weaver, the executive director of the Ocean Avenue Association, was pleased to hear about the walking tour.
"Learning about the trees in your neighborhood is important and fun," Weaver said. "OAA works with Public Works and Friends of the Urban Forest to plant more trees in the neighborhood to add to San Francisco's urban canopy."
Visit the "Westwood Park 'Social-Distancing' Tree Tour" page on www.sftrees.com for more information.
---
Support independent community news
No media outlet covers our neighborhood like The Ingleside Light. Full stop.
Reader support sustains the expensive reporting our community needs and deserves. Will you join the hundreds of readers and become a member?