Learn about the artists and inspiration behind all of the neighborhood's murals.
The Ingleside Light is an independent news outlet. Sign up to receive our latest stories as soon as they're published.
Ingleside has many murals, mostly along and around Ocean Avenue, that intertwine with the neighborhood's culture, history and small businesses. A handful were even created by Ingleside-based artists such as Neil Ballard and Eli Lippert with others crafted by Bay Area mural specialist 1AM Projects.
The Ingleside Light's pulled together a living guide to all of the neighborhood's hand-painted murals. It's perfect for using on your next stroll.
Starting from Ocean Avenue and Howth Street, let's journey west to see all the creativity that the community has to offer. Let's begin.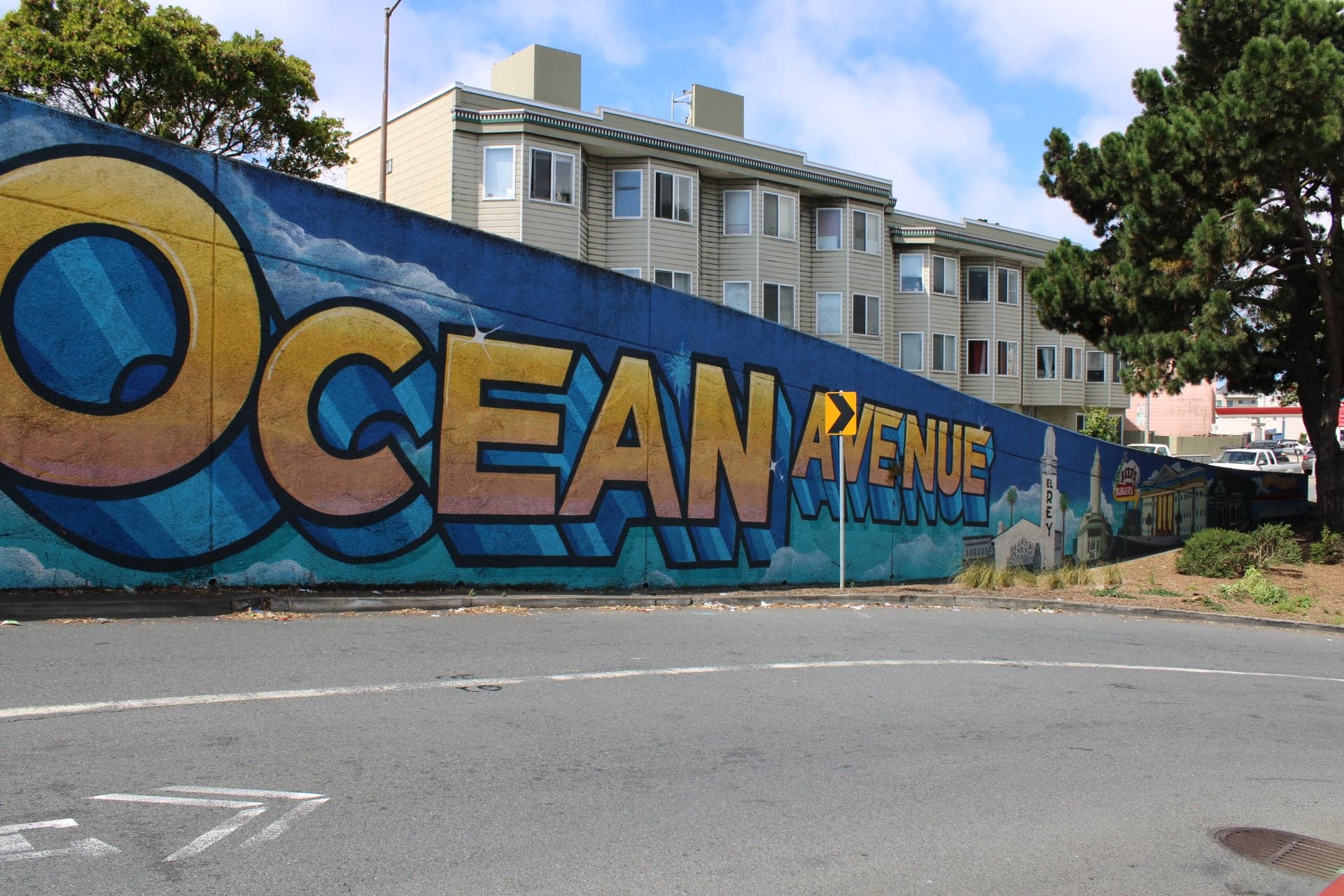 1. Welcome To Ocean Avenue
Ocean and Geneva avenues | Artist: 1AM Projects
The retaining wall on Geneva Avenue that leads down towards Ocean Avenue displays a vibrant blue base color with bold 3D yellow gradient lettering. It also depicts several historic landmarks throughout the corridor like the former El Rey Theater and Beep's Burgers. It was created in 2016 by 1AM Projects.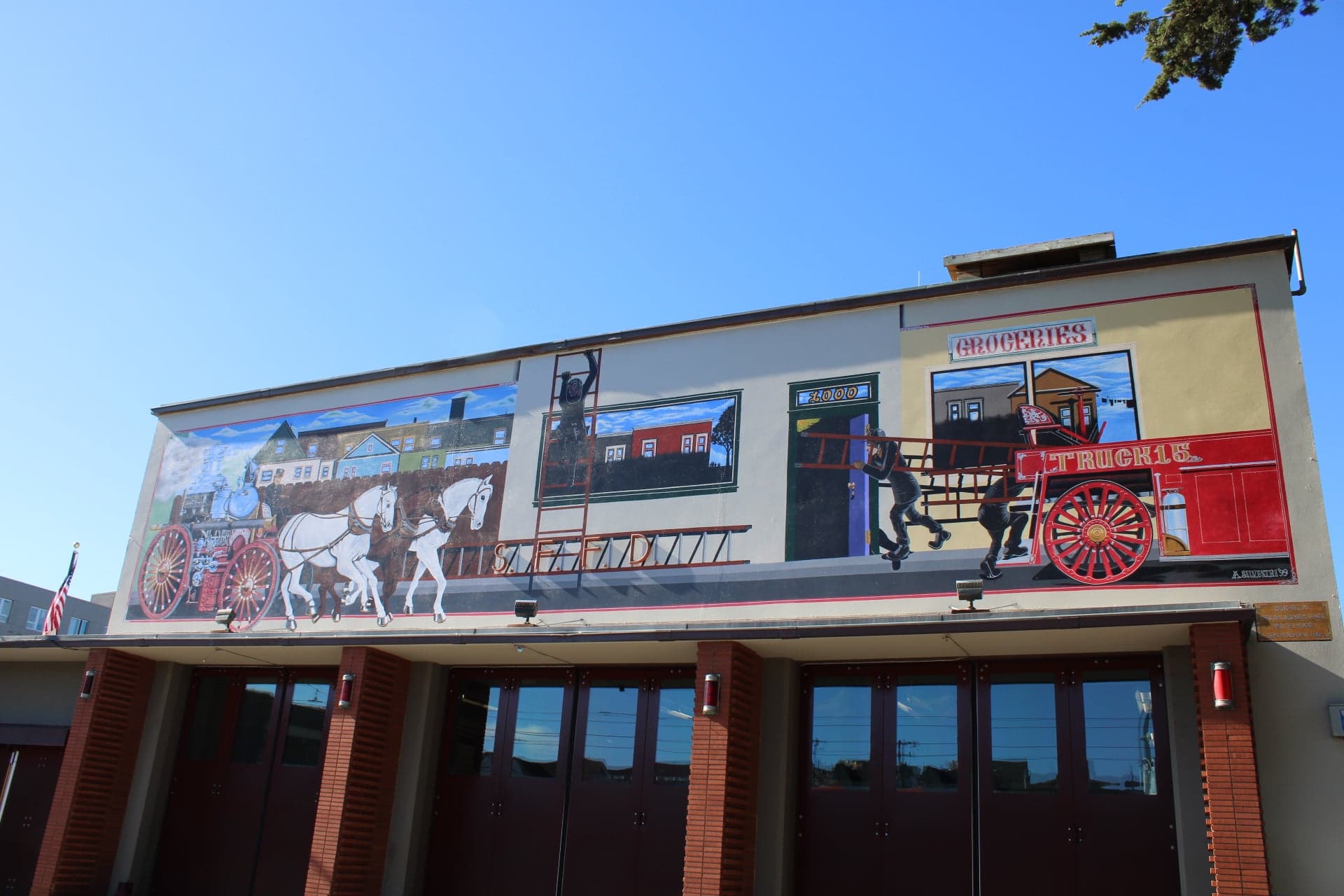 2. Fire Station 15 Now and Then
1000 Ocean Ave. | Artist: Andy Silvestri
Located on San Francisco Fire Department's Station 15, this mural embodies the history of San Francisco firefighters. Horse drawn carriages and firefighters going into action at a grocery store span across the front of the building. It was painted in 1999 by Andy Silvestri, the son of a retired firefighter, according to a news reports.
It was also a part of a beautification effort for the neighborhood. It was touched up about five to 10 years ago to make it politically correct, according to a firefighter at the station.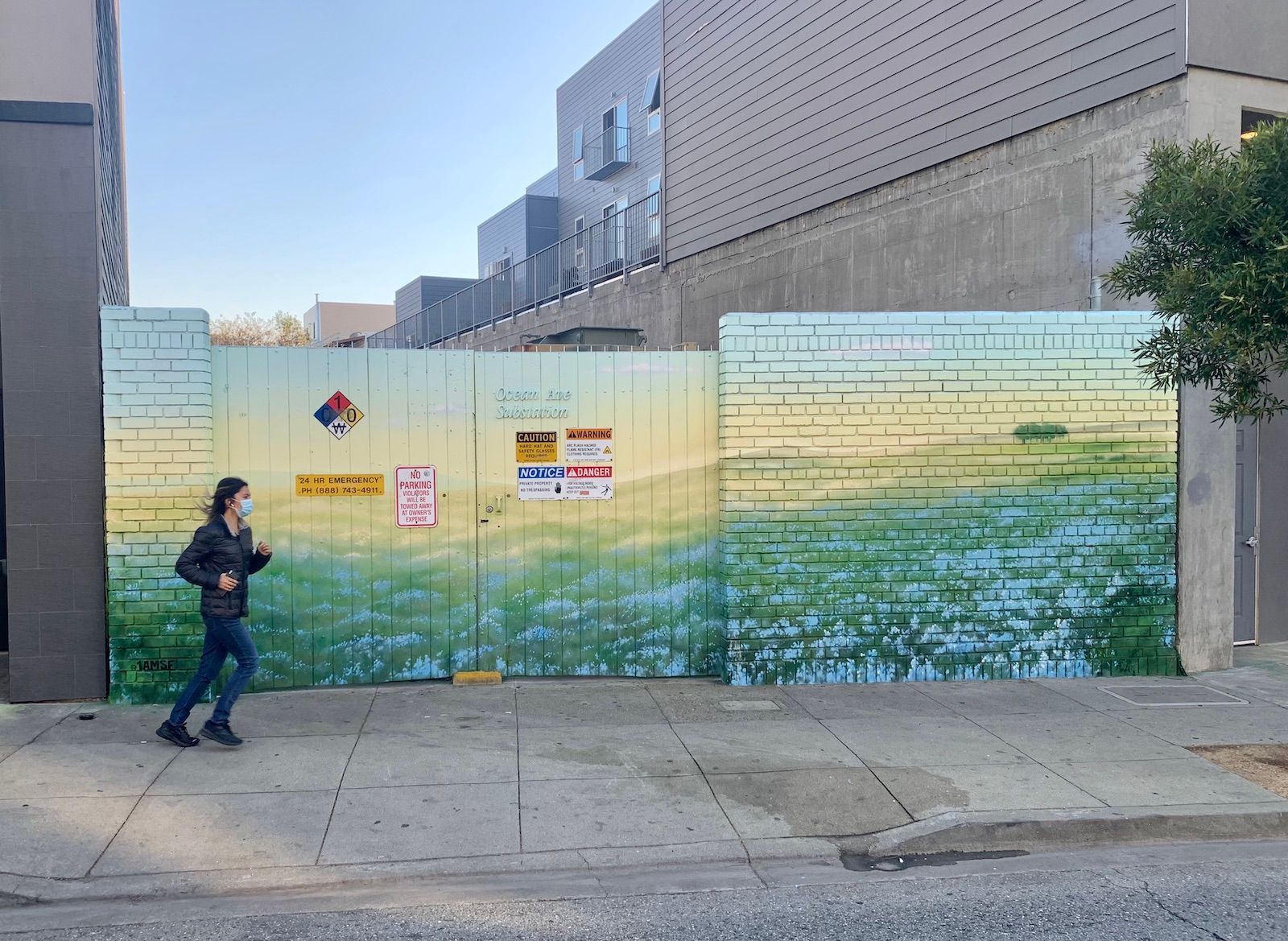 3. Ingleside Wildflowers
1100 Block of Ocean Avenue | Artist: 1AM Projects
This mural has a historical back story. It was created in 2021 by 1AM and was one year in the making due to permission grants from PG&E and the SFCA. It was also funded from the OAA with part of the grant they received from the District Seven Participatory Budgeting program
It shows a mellow green field filled with little blue wildflowers that once encompassed the area and provides an open door into how Ingleside used to be. The inspiration came from a 1900s postcard.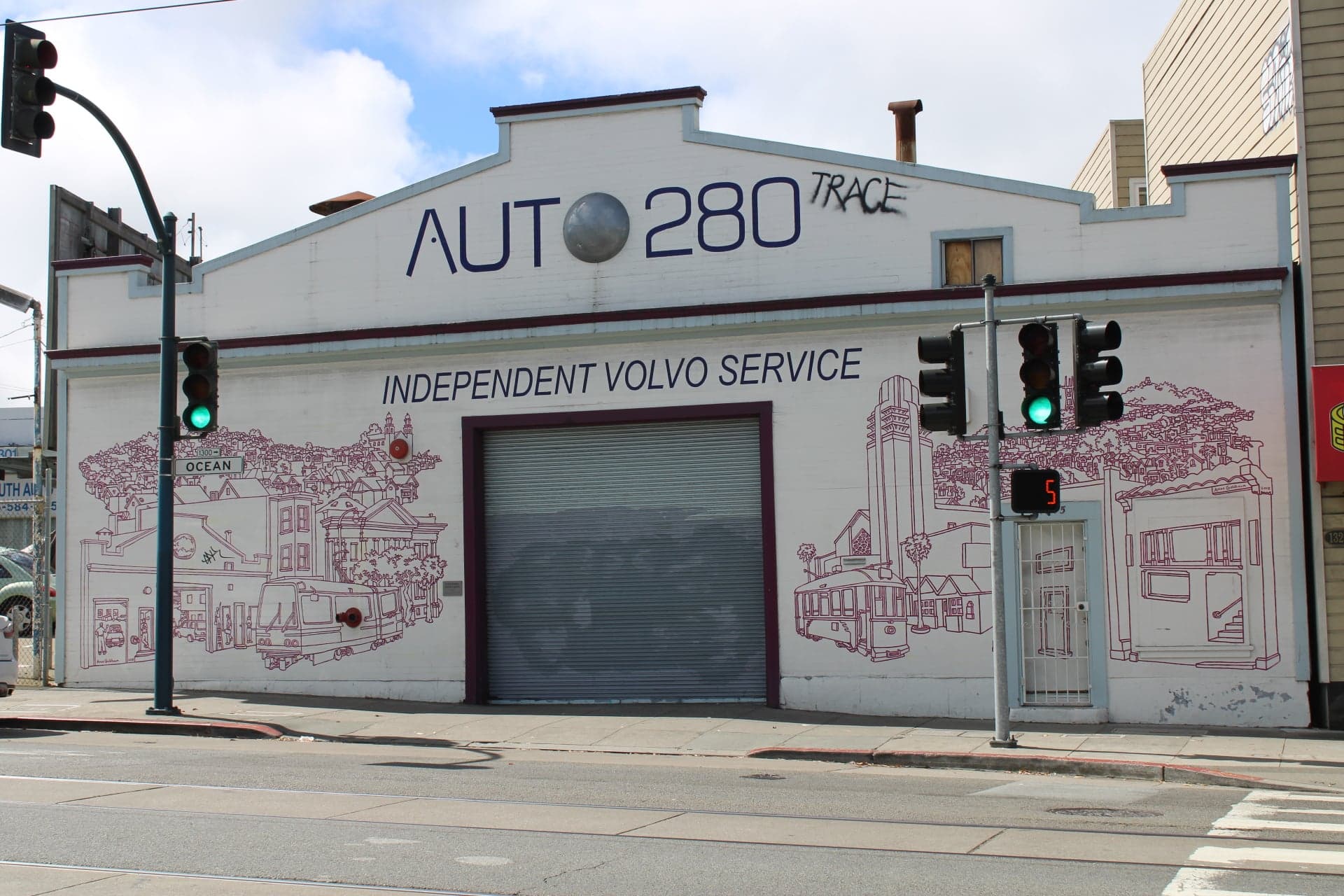 4. Ocean Avenue North & South
1315 Ocean Ave. | Artist: Amos Goldbaum
The exterior of Auto 280 displays crisp purple line work against a white backdrop that shows the different aspects that shape the neighborhood. Aspects like the MUNI light rail system and the city's rolling hills filled with clusters of housing can be seen within this mural. It was commissioned by the city's Office of Economic and Workforce Development' SF Shines program and was completed by Amos Goldbaum in 2021.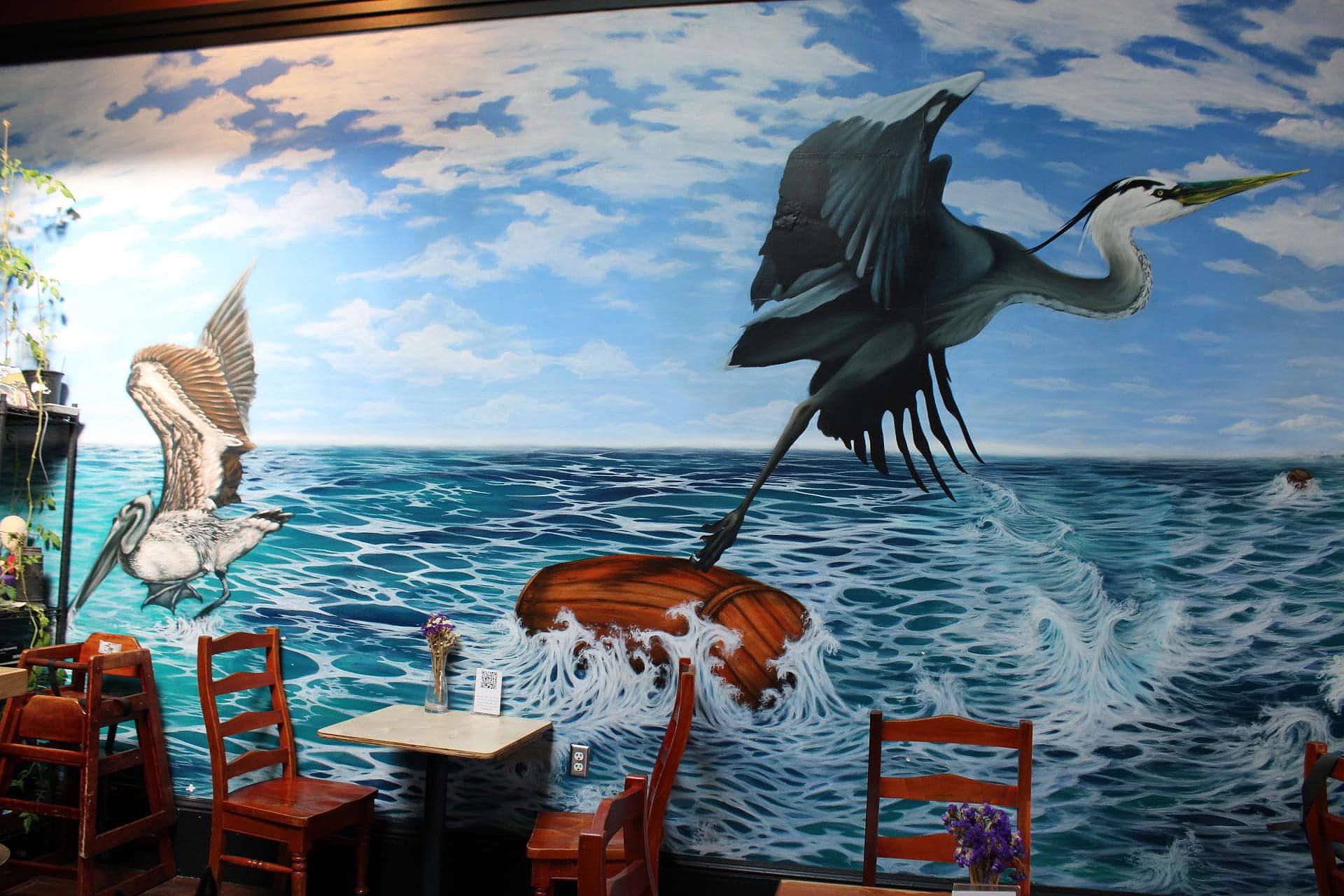 5. Ocean Ale House
1314 Ocean Ave. | Artist: Eli Lippert
This neighborhood bar is a two for one when it comes to murals. Both were painted by Eli Lippert, a local artist. The first one that Lippert created was inside the establishment in 2016 and depicts scenic ocean views and pelicans across the right wall. The second is just outside in the seating areas parklet that was created during the COVID-19 pandemic. It displays the words "Love Always Wins" in ocean inspired lettering.
The mural may not be long for this world since Ocean Ale House will tear down the wall when it expands into the next door storefront.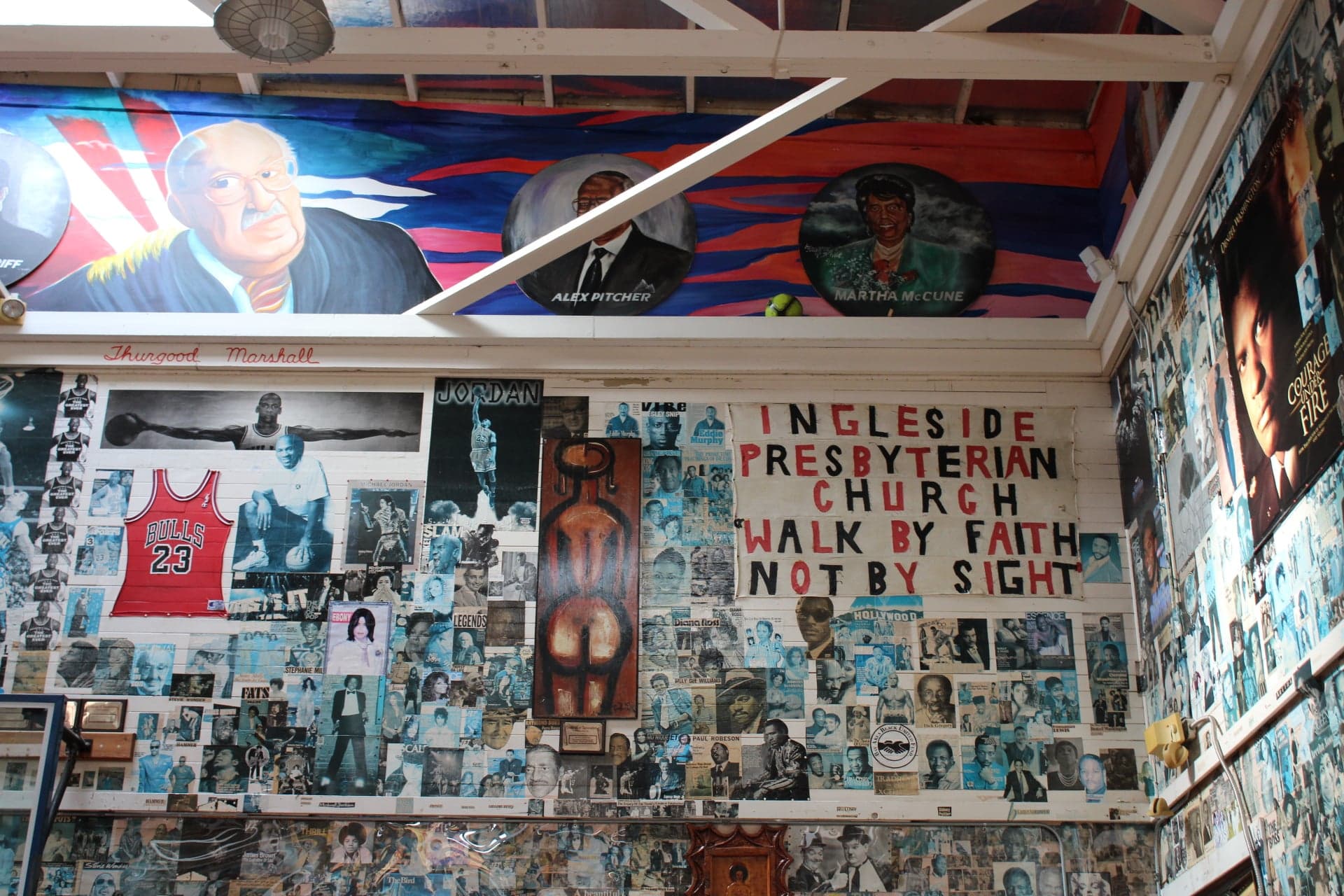 6. The Great Cloud of Witnesses
1345 Ocean Ave. | Artist: Rev. Roland Gordon
The Ingleside Preysbterian Church holds a history-enriched hidden gem past its pure white facade. Wrapped around nearly the entire inside is one giant on-going photo collage of church members and their families, historical figures, celebrities, quotes and other motivational images.
Rev. Roland Gordon started his project in 1980 and has been the only person adding to it, according to church member Vickie Lewis. It was originally implemented in the church's gym by Reverend G with the goal of inspiring kids with positive influences. It, then, started spreading to other parts of the church including its bathrooms. The only places that his collage can't be found are in the kitchen and sanctuary.
It features several hand painted murals by Susan Cervantes, Selma Brown, Ron Goodman and assisted by Marta Ayala and Patricia Rose.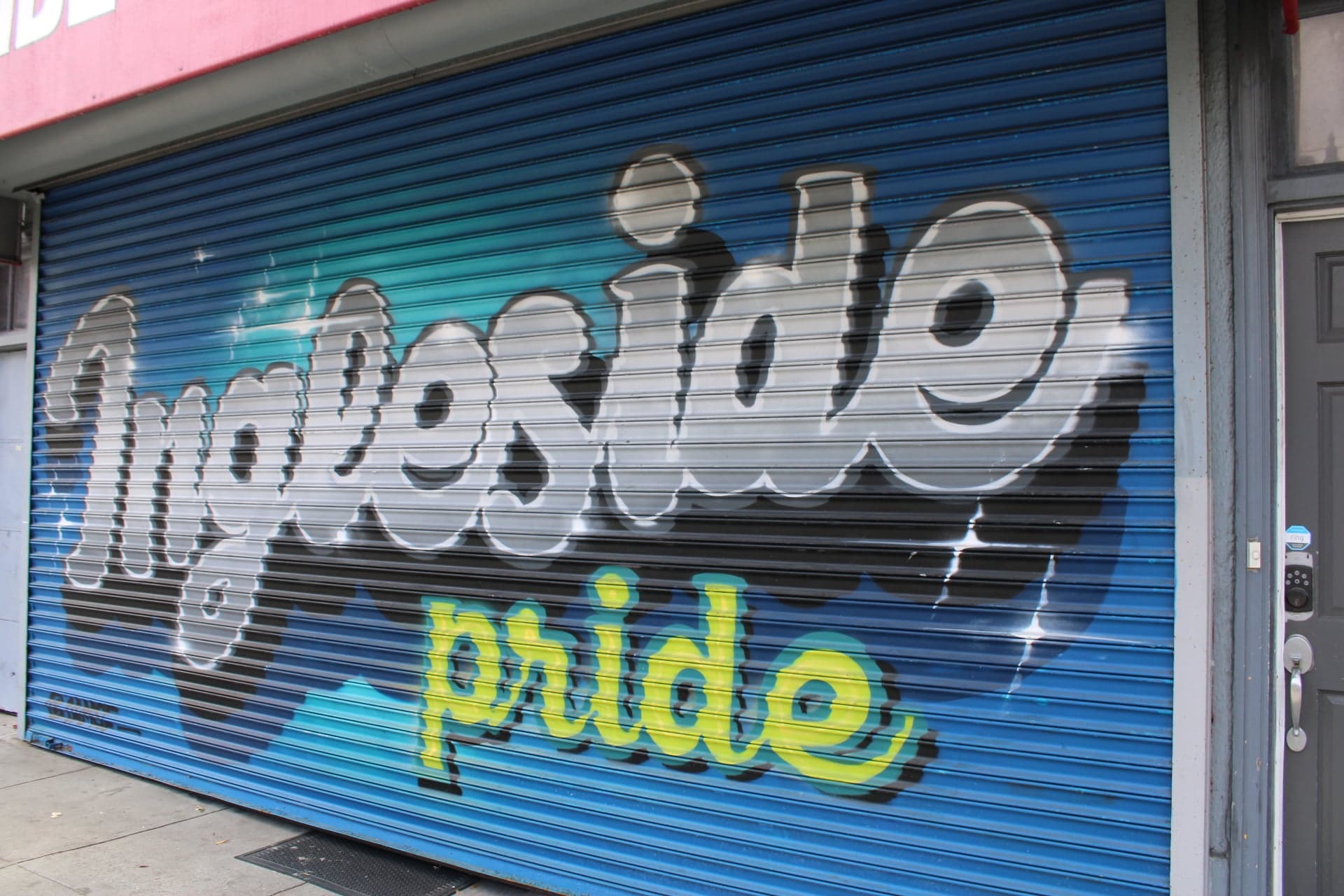 7. Ingleside Pride
1507 Ocean Ave. | Artist: 1AM Projects
This storefront rollup encompasses an everlasting message of "Ingleside Pride" for the neighborhood to stay positive and united. It is painted in silver and lime screen in a cursive graffiti style with a dark blue background and twinkle shapes. It was created in 2020 by 1AM and was inspired by Harvey Milk's congratulatory speech in 1977 after being elected to the San Francisco Board of Supervisors.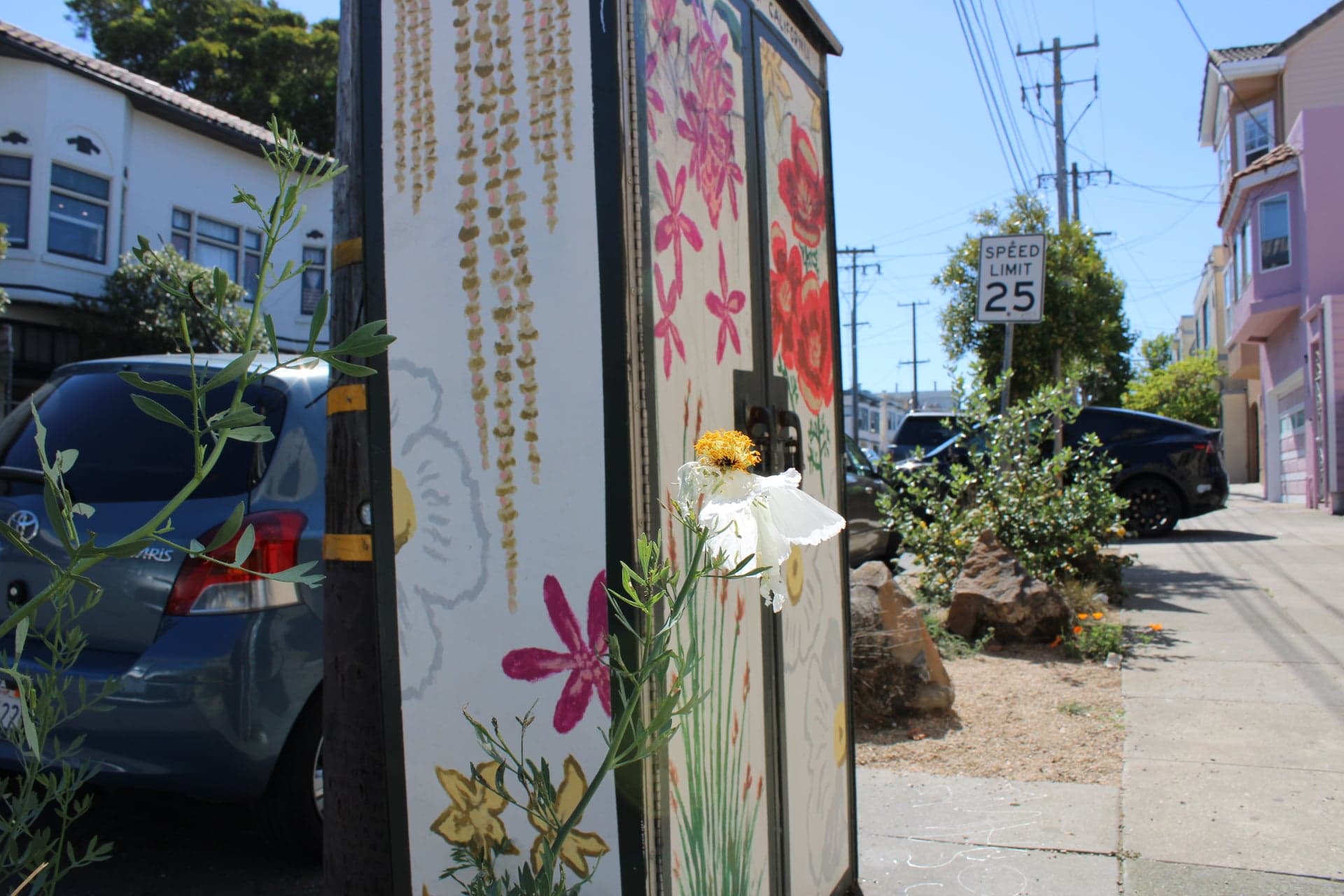 8. Native Plants of California
Capitol and Ocean avenues | Artist: Neil Ballard
This graffiti-prone utility box was transformed by local artist Neil Ballard in 2020. It prominently features multiple plants and flowers that are native to California as if it were a page from a botanist's journal.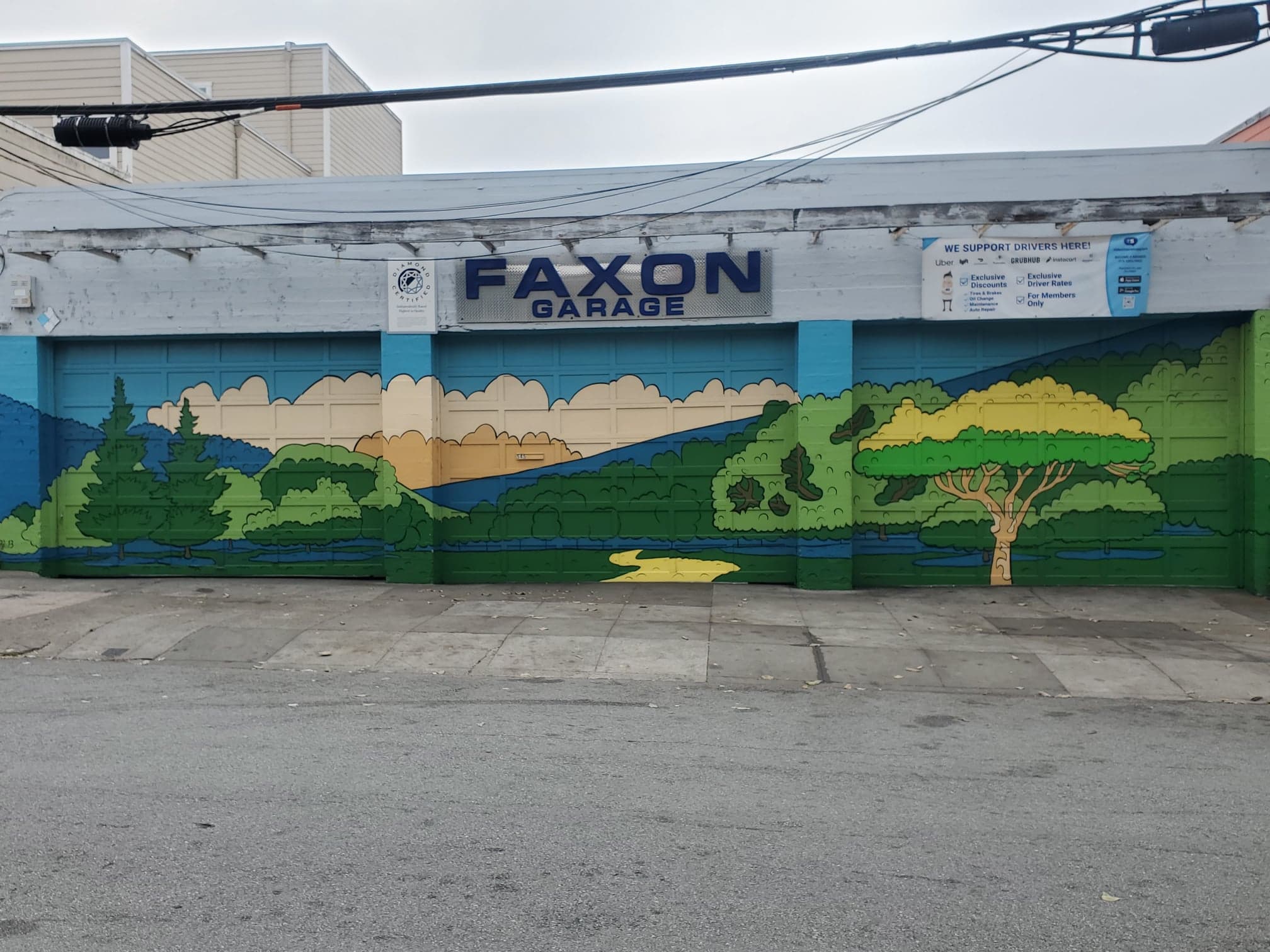 9. The Natural World
545 Faxon Ave. | Artists: Neil Ballard and Eli Lippert
Three panels of scenic nature are displayed on the roll-up doors of Faxon Garage. It was created by Neil Ballard with help from Eli Lippert in 2021. Ballard said that this project was inspired by master comics artist Moëbis and uses a fixed-width linework style called "ligne claire."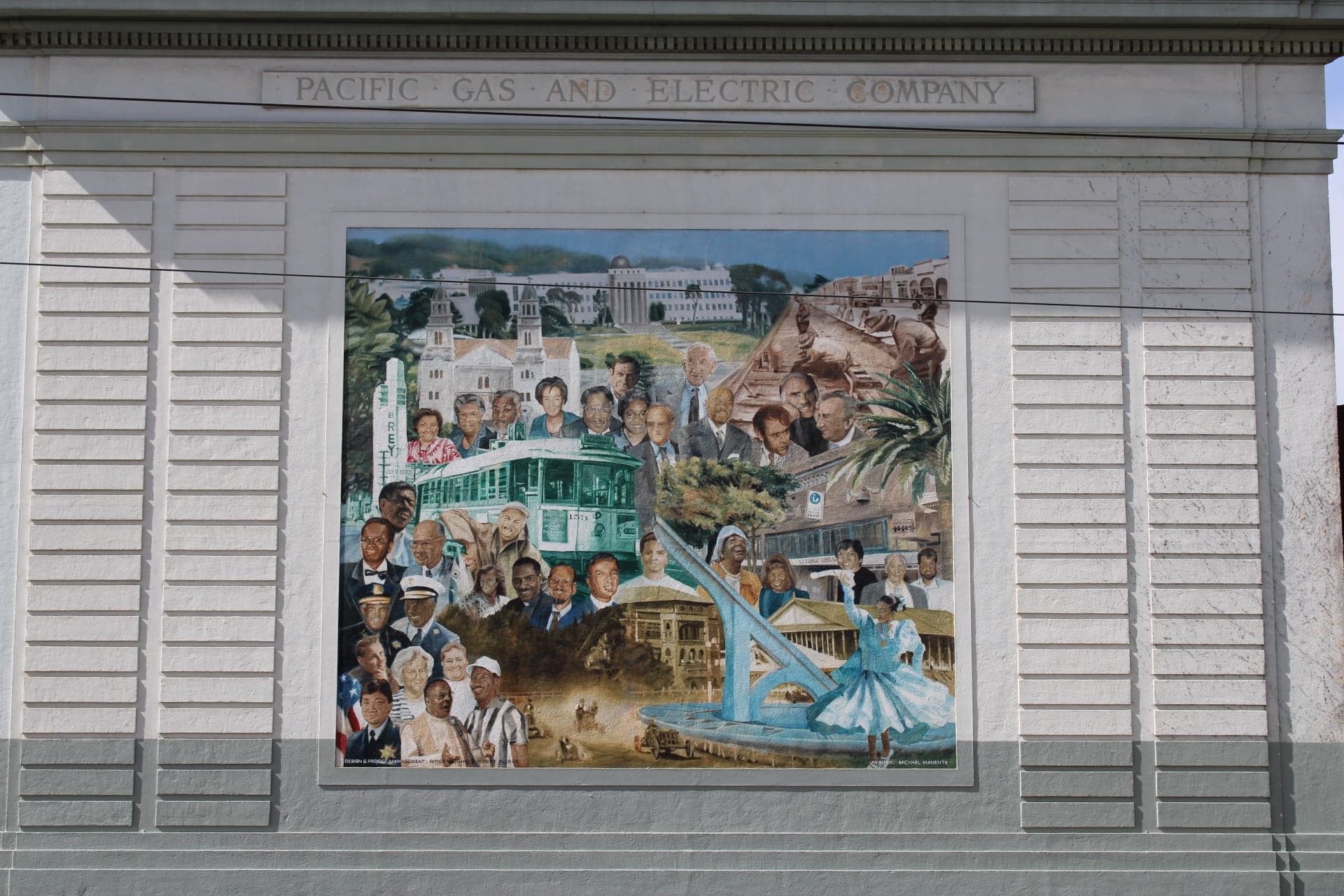 10. The Lights of OMI
Ocean Avenue and Junipero Serra Boulevard | Artist: Michael Manente
Painted by Michael Manente in 2000, the Lights of OMI is one of the neighborhood's oldest and largest murals. It was commissioned by Oceanview-Merced Heights-Ingleside Business League and touched up in 2020 by Yano Rivera of Precita Eyes for its twentieth anniversary.
It depicts the people and landmarks that helped shape OMI's history over the years. It contains portraits from a range of San Francisco officials, neighborhood leaders and structures such as the Ingleside Sundial and the City College campus.
Coming Soon
Diego Rivera's Pan American Unity: Artist Diego Rivera's priceless Pan American Unity fresco has been a must-see feature of City College of San Francisco's Ocean Campus for decades. The huge artwork is currently on display at the San Francisco Museum of Modern Art. It can be viewed for free. It will be installed in the college's forthcoming Rivera Theater complex.
This article was published in October 2022. Did we miss something? Please let us know.
Support Independent News
This story you've just finished was funded by our readers. We want it to inspire you to either sign up to become a member or make a gift to The Ingleside Light so that we can continue publishing stories like this one that matter to our community and city.
The Ingleside Light is a reader-funded news publication that produces independent journalism to benefit the community. We were founded in 2008 to fill a void in San Francisco's press: An outlet dedicated to the people of the greater Ingleside neighborhood. More than a decade later, The Ingleside Light is still here doing the work because it is critical to democracy and our civic life.
Your contribution today will help ensure that our critical work continues. From development to small business, to parks and transportation and much more, we are busier than ever covering stories you won't see anywhere else. Make your gift of any amount today and join the hundreds of readers just like you standing up for the power of independent news. Thank you.
JOIN NOW